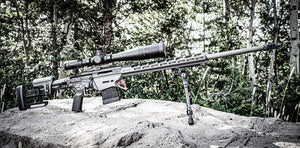 6mm Creedmoor -Why it is sooo Good.
The 6mm Creedmoor cartridge has gained popularity in recent years for several reasons. Here are a few factors that contribute to its popularity:
High Ballistic Coefficient (BC): The 6mm Creedmoor has a high BC, which means it retains its velocity and energy over long distances, making it an excellent choice for long-range shooting.

Low Recoil: The 6mm Creedmoor has relatively low recoil compared to other long-range cartridges, making it easier for shooters to stay on target and maintain accuracy.

Good Barrel Life: The 6mm Creedmoor is known for having good barrel life, which means the barrel will last longer before needing to be replaced. This is due to its moderate powder charge and efficient burn rate.

Versatility: The 6mm Creedmoor can be used for a variety of shooting applications, including hunting, competitive shooting, and long-range target shooting.
Overall, the 6mm Creedmoor offers a combination of accuracy, long-range capability, and low recoil that has made it a popular choice among shooters in recent years.
---