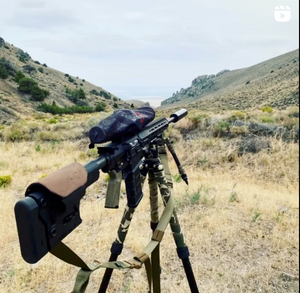 Tripod Shooting Techniques
Shooting with a tripod can be a great way to stabilize your firearm and improve your accuracy, especially for long-range shooting. Here are some tips for tripod shooting:
Choose the Right Tripod: Select a sturdy tripod that is capable of holding the weight of your firearm and any accessories you may be using.

Adjust the Legs: Adjust the legs of the tripod so that it is level and stable on the ground. You may also want to adjust the height of the tripod so that it is comfortable for you to shoot from.

Attach a Ball Head: A ball head will allow you to adjust the angle of your firearm to achieve the desired elevation and windage.

Use a Sling: Using a sling will help to stabilize your firearm and reduce fatigue.

Practice: Like any shooting technique, practice is key to improving your skills with tripod shooting. Start by practicing at shorter distances and work your way up to longer ranges.
Overall, shooting with a tripod can be an effective way to improve your accuracy and stability. Just remember to select the right tripod, adjust it properly, and practice regularly to improve your skills.
---