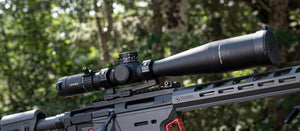 Leupold Mark 5HD-Review PR2-Mil Reticle #LEU180222
I don't attend a lot of ShotShows but on the occasion that I go I really appreciate finding that show stopper of a product. --Five years on the Mark 5HD still impresses me. It was only last night that I was out with the Ruger Custom Shop 6mm on which my Mark5HD is now attached. 
Others' Impressions
Everyone has their biases and I'm no different so when I was asked to help a friend of a friend get his Tikka dialed in for Elk season I didn't hesitate. Let me just say that Cabela's should never be allowed to set up anyone's rifles. 
It was also a good excuse to get some more people behind the Mark 5 and on the Ruger to gather yet more impressions of the glass, the rifle, and the Triggertech RPR trigger. Let me tell you, jaws literally dropped when they looked through this glass and started making 3/4 mile shots off the tripod. I mean these bad@ss dudes were like fat kids in a candy shop. --I do not exaggerate. These are guys with decades of serious trigger time so when they say they love something you take note. That was Tuesday. 
1985 Meters off the tripod Saturday. 
The previous Saturday was yet another range day because I am loving this setup that much. I set out with little expectation but seeing as we were doing so well that day we decided that we needed to go a little further, maybe even push things to the point I figured they might start to come apart for this little 6mm round. 
So, out came the Kilo 5000 range finder, distance measurements were taken and retaken. Wind was evaluated. 4:30, 7-12 miles per hour. A half value wind overall, after taking into account the complicated wind scenario all around us. There was a long winding canyon merging with another, rolling hills, open fields with fingers of forest, and about a 12 degree difference in line of sight between us and the target.
"This in itself is a worthy exercise for hunters and long range shooters since in nature targets aren't painted red or yellow or white and marked with a big number plate."
Since we couldn't just roll up and set out a target we found a terrain feature and then communicated back and forth until we were both confirmed on the same feature. This in itself is a worthy exercise for hunters and long range shooters since in nature targets aren't painted red or yellow or white and marked with a big number plate. 
Once confirmed, adjustments were made to the Mark 5HD 5-25 PR2-Mil, windage held, and first shot from the tripod was taken. 1 Mississippi, 2 Mississippi....5 Mississippi, 6 Mississ...one mil to the left!!! BUT the elevation was perfect. Run the bolt. Second shot on the way, grab a drink, go to the bathroom, come back to the scope, and BINGO! Right in the middle of the target! (Note: I didn't really get off the gun while waiting on the round to arrive.)
It takes a while for even the 6mm Creedmoor to travel 1985 meters/2163 yards. It's a fair poke. 
So much for pushing beyond the limits. The scope showed itself to dial with extraordinary accuracy. The PR2-Mil reticle with it fine lines was perfect for not obscuring while also finding my windage hold without issue. Just to prove it wasn't an accident J got up and did the same thing again while I called wind, except he was within ten inches of the target on the first round as I called wind. 
CCH VS PR2-Mil Reticle 
Originally, when I briefly owned the Mark 5 I had selected the CCH reticle which is fine but not fine. The reticle design, though useable, felt clunky and cluttered. Most notable were the reticle's thick lines. At further distances I could tell that I was losing a lot of sight picture behind the lines. --a big no-no for me. So, I wasn't too upset when the scope sold before being purposely mounted to one of my own rifles. 
It was fairly recently that I noticed the PR2 reticle options on the site. I was really just looking to avoid dropping an extra $500 on a Tremor 3 reticle since I was trying to avoid mortgaging the house to buy the setup. The PR2 really jumped out at me. The alternating hash marks and the ten mil tall Christmas tree seemed just about right for most anything. It's worth mentioning that this and all Mark 5HD scopes are FFP (First Focal Plane). For those not familiar with this, it means that the reticle holds it's value throughout all of the magnification ranges. This means that should you need to hold a certain wind or elevation value for a given distance the reticle will subtend correctly no matter what magnification. In laymen's terms, this means it will work for you no matter what magnification (zoom) you have the scope set at. 
This may seem like overkill for you if you are "just a hunter" but it is exactly you that should be using a FFP scope. It is because hunters and beginners use second focal plane for its "easier to see" reticle that many misses happen or worse yet, wounded animals. It is more common than not, that the shooter in his/her excitement forgets they are not in full magnification where the second focal plane reticle subtends correctly. They hold their correction and have no idea what went wrong. 
Further, to this I'll make a point by asking a question. Do you always want to have to dial in to full magnification for every shot? What if it's only fifty yards? I'll go ahead and answer this for you...you don't. You want the reticle to work at all magnifications. It's just easier and faster.  
The Leupold Mark 5HD came to the market originally about 5 years ago but I don't know that it was every fully recognized for the glass that it is. From the moment I laid eyes on it at ShotShow I was always pretty determined to own at least one. The relocated windage zero mark made more sense than anything I had ever seen but there's a lot more to it than that. You can actually see the windage zero mark over/around the scope rings without having to lean over the cheekpiece. (Seen below)
As mentioned earlier, I actually owned one previously before a student 'robbed' me of it due to the failure of his Vortex POS on our Advanced mountain class. I was by that time the second instructor to tell him to get rid of the old scope. It almost cost him the class because the scope he had was not functional and the rings were not holding zero. 
It's worth mentioning that the best glass is at best decorative if you don't have good rings. This is where I shamelessly plug Warne Scope mounts for their amazing burly but low weight mounts. Particularly, their tactical, MSR, and Skyline Precision one piece mounts. I have come to rely on these over the past six years almost entirely so yeah, it's literally a shameless plug. 
Holding Back On Great Glass is Holding Back on Great Results
I understand that often, it's difficult to pay that initial price for glass. After all, you could go on a week vacation for the same price...by yourself that is. Realistically speaking, $2300-2700.USD is not actually that much money these days...in the grand scheme of things. So, why I ask do so many shy away from purchasing the one thing that will make the biggest difference to their long range shooting ability (Outside of training I mean)? 
The Struggle with Pulling the Trigger on Great Glass
I, as in WE, at Rangetech.us, have discussed this phenomenon at length. We believe it is because we as consumers don't believe the claims manufacturers make and we are all too used to getting what we want NOW, because WE WANT IT now. A fair bit of the time products don't really live up to the advertising. I mean if you were a manufacturer and you knew that your customer base was gonna buy your shiz without much thought due to the name brand you probably wouldn't give two poops about getting a quality product to market. Your focus would be quantity to market. At best, these products deliver for long enough before failing and ultimately ending up in the trash bin to let your warranty lapse. I guess many have come to expect this as we've grown up in a throw away lifestyle. 
Why It's Costing You more to Buy Cheap Nasty Glass
In the long run and over the course of teaching long range shooting for 11 years I have seen this cost quite a few students a lot of money on poorly advised purchases. Heck, it cost me money over the years because as scopes came out with ever improving features like zero stops I had to upgrade. Now you only see low end scopes lacking of a zero stop. Ultimately, it will cost you money in the long run as you grow tired of the struggles of cheap glass. The wasted trips to the range, wasted ammo, wasted time...it all adds up. 
The Mark 5HD also boasts an amazing rev counter system and it works in the dark. 
I'll illustrate as that's going to make a lot more sense.
Revolution 1: Note the lock is extended. (Above illustration)
Revolution 2: Note the lock is now flush. (Above)
Revolution 3: Extended button (Above)
As you can see, it's really easy to see what revolution and what adjustment you are at. 
My Modus Operandi
I've tried to avoid this wastefulness myself. Personally, I've generally been extremely patient in making big purchases...except my Ram 3500. I knew what I wanted and the price was right. It was the right time just like now is the right time to buy a Mark 5HD scope in any variant. They are all excellent. Yes, I am outright telling you to go get this scope now. Stop reading and go order it. It is that good! If you need to save for the scope then start saving! 
Comparatively Speaking--You Should Not Be a Brand Snob. 
I own scopes nearly twice the price, and some less than half the price, and I don't say this to brag. These scopes rarely see the light of day. --Nightforce's and US Optics's, to be clear, flagship lines are excellent. Their lower end lines I would not touch. Both brands cost nearly $4000USD per comparable optic to the Mark 5. Both also have  occasional issues, especially US Optics which I have sent back for many repairs. --I still love my US OPTICS scopes though. The staff are great and I count on their Foundation and B-Series scopes when it comes to night-vision (NV) compatible necessities. 
However, I don't see myself buying either brand again anytime soon when I can buy the Mark 5 for a little over $2000. I don't see myself buying the Nightforce when I can get a Mark5HD with 'crystal clear, nothing sort of amazing glass', with a much simpler zeroing procedure. --I need only one аllen-key. On the other hand, the US Optics requires hair sized allen-keys and the Nightforce requires three tools (which are included on a slick three sided tool).  Adjusting either of these big brand scopes in the field is terrifying because I am removing tiny screws and a top cap, exposing internals. Whereas, the Mark 5, I remove nothing. Loosen each of the screws, adjust the cap to access more elevation travel, tighten screws, adjust reticle till the reticle reflects shot placement, loosen screws (shown below as indicated), set to zero stop, tighten screws...done. That's really it. 
The Struggle with 35mm --Really a Silver Lining? 
Now, the struggle with the Mark 5HD is that it is 35mm rather than 34mm. That still baffles me but it is what it is. This makes finding the right scope mounts both harder and easier. What I mean by this is that it eliminates a lot of trash products from the options and leaves you with scope mounts like Warne Scope Mounts Skyline Precision Mount which I chose for it's MSR style build, lightweight, and 20MOA built in slant. This single piece scope ring setup delivers all the goods a precision shooter could want.  
More on Warne Scope Mounts in a future post. 
My point is that the 35mm scope tube just saves you a lot of grief picking out a crap product just to regret it later. 
I see the Leupold Mark 5HD lineup as filling many gaps left by other scope lineups. The simple things like the relocated windage zero mark, top tier sailing accuracy, crystal clear glass with no chromatic aberration and minimal parallax. The scope also boasts 120 MOA of elevation adjustment, a 56mm objective lens, tactile and visual revolution indicators to tell you what revolution you are on. The dialing is fast, predictable, and clicks are positive. The reticle is the perfect density and usability leaving nothing to be desired. 
Now, the one and only thing the scope is lacking, illumination. This particular model does not have an illuminated option and that makes me sad. I even went to contact the Leupold Custom shop and found out that due to staffing issues (like the rest of the world) the custom shop is not offering any services for the foreseeable future. There's a job there if anyone is looking. 
A far second is the 35mm tube but all that does is illiminate all the bad scope ring options...so...
Minimum parallax adjustment is 50 yards. That's not bad, its a long range scope, not a red dot. That said, you can still shoot closer ranges. 
The other really stand out feature of this scope is what is NOT there and that is weight. The Mark 5HD comes in at a scant 30 ounces. The scope weighs a pound and a quarter less than some notable brands. That's not a small difference, its a huge difference!!
I'll use that 20 ounces for more food or water thank-you very much.  
A few Results to Get my Point Across.  
You may have seen my review of the Ruger Precision Rifle Custom Shop 6mm Creedmoor (Here) but here are the results in order. 
Day 1:
Shots 18, 19, 20- bug hole group.
Day 2: 
Shots 23, 24, 25 two shots in one hole and one slight pull shown here: 
Day 3:
1200 meters consecutive impacts touching, first round hit 1 mile. 
Day 4:
1200 meters first, second, third round hit sub 66% ipsc sized target.
1985 meters 2nd round hit half ipsc sized targets times two. 
I like to think that results speak a lot more strongly than say a manufacturer's claims and specifications. 
Secondary Impressions: 
There are a few other smaller but still significant details I have noticed throughout testing. One really stand out detail is the amount of light and the field of view this scope has, even on high magnification. You might even say that the world is your oyster when you look through it. So, illumination or not you are going to be shooting well into the twilight. In many states illumination is illegal for hunting anyways. 
The smoothness and ease of adjustments is stand out too. Compared to other scopes it is buttery smooth. 
The scope also looks oh so good. Proportionally speaking it is a work of engineering art. 
It is also worth mentioning that this lineup of scopes is covered by Leupold's lifetime no hassle coverage. Should you have an issue expect to have it back to you in about three weeks currently. This is a far cry from the 4 months I generally wait on some other brands. That said, everything mechanical wears out. I shoot a lot as you probably guessed. I was out again today testing something for Triggertech actually. --this will be in a future review so I hope you will come back for that review too. 
---