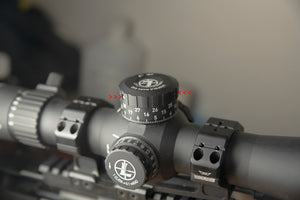 Choosing a Precision Rifle Scope For Long Range Shooting
Precision rifle scopes are specialized optics designed for long-range shooting, often used for target shooting, hunting, or military applications. These scopes are designed to provide precise and accurate aiming at long distances, typically beyond 300 yards.
Here are some key features and considerations when choosing a precision rifle scope:
Magnification: Precision rifle scopes typically have a magnification range of 3x to 25x or higher, allowing the shooter to zoom in on distant targets for precise aiming.

Reticle: The reticle, also known as the crosshairs, is an important feature of a precision rifle scope. The reticle should be designed for accurate aiming at long distances, with precise markings for holdovers, windage, and elevation adjustments.

Focal plane: Precision rifle scopes can be either first focal plane (FFP) or second focal plane (SFP). FFP scopes have a reticle that appears to change size as the magnification is adjusted, while SFP scopes have a fixed-size reticle.

Objective lens size: The objective lens is the front lens of the scope, and its size affects the amount of light that enters the scope. Larger objective lenses can provide better light transmission and a brighter image, but also make the scope heavier and bulkier.

Parallax adjustment: Parallax is an optical effect that can cause the reticle to appear to move when the shooter's eye is not perfectly aligned with the scope. Precision rifle scopes often have a parallax adjustment feature to minimize this effect, allowing for more accurate aiming.

Quality and durability: Precision rifle scopes can be expensive, but investing in a high-quality scope can make a significant difference in accuracy and longevity. Look for scopes with durable construction, high-quality optics, and reliable adjustments.
Overall, choosing the right precision rifle scope depends on the specific shooting application and personal preferences. A good scope should provide clear and accurate aiming at long distances, with reliable construction and features that meet the shooter's needs.
---