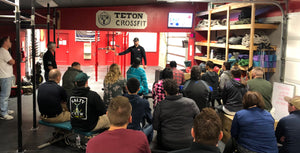 When you don't have time for a gun. Spartan Mode Defensive Knife.
As a Federal Corrections Officer I saw a lot of stabbings and even faced off with a convict who'd just stabbed two other inmates. I flew on a LifeFlight as the armed officer as protection for the EMTs on board. I knew officers who were stabbed or slashed and all too well I understand the dangers of knife attacks. Some attacks were violent and swift beyond what the mind can comprehend until you see them for yourself....
The training we received to deal with these attacks was pathetic really. Basically, run away (if you can), make distance, and so on; let the armed control post officer pull out the rifle and shoot the con. More often than not that officer was asleep at the wheel, enjoying the entertainment but not really willing to go through the legal fight after shooting an inmate. I guess I was lucky I never had to rely on them...
It wasn't until I left the service I was in and moved to the USA that I would really encounter a really good defensive knife course through a chance meeting. Talk about right place at the right time. I ended up attending this course twice and have recommended it to everyone I have talked to about personal security, concealed carry, concealed carry firearms, and so on. Anyone that would listen, especially women who need self-defense training to better level the playing field. I'm not just a long range rifle instructor after all...I'm a father, a husband, a brother, and a sheep dog in a dangerous world full of coyotes and wolves. I believe women and children should be trained to protect themselves and others just like men but better.
So, it was really amazing to attend Adam Boyce's Spartan Mode Defensive Knife course in Idaho Falls, ID, and again in Rexburg, ID and see normal people learning a system that in my opinion is bar none the best system out there for normal everyday women and men. It is also the most legally defensible system in place too. And here's why.
Simply put, it is meant to stop the threat with the most effective minimalist moves possible without looking like Jason or Freddy had a go at the attacker. It provides the most realistic training to protect the would be victim from being cut too. It provides opportunity to gain space, gain control, and get to your gun if you can and if you have one. Most attacks are up close and personal and I know a lot of people like to believe that they'll always be able to get that pistol into the fight but it's simply not the case more often than not. We live and work in environments where we are moving amongst people daily. So, the long and short of it is you need this training whether you're a Federal officer, or a house wife, or a kid at college.
---