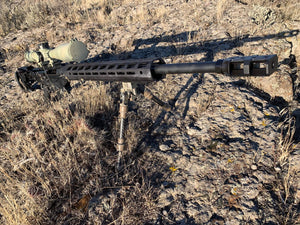 Ruger Precision 338 Lapua
     While the Ruger Precision long range rifles have been around I have had the chance to test all of them over the past 3 years; starting with the Gen 1 in 6.5Creedmoor, the Gen 2 in 6.5 Creedmoor, the 22 long rifle, version, and now the .338 Lapua Version. --all of them have been great shooters with 1 hole groups being the norm. It truly is an impressive piece of equipment.
     On it's first day out I was out to over a mile with it in some hero conditions. I was graced with a light tail wind and light mirage which are not normal to Eastern Idaho. Only a couple of zeroing rounds and I was hitting past a mile with this .338 Lapua beast. .338 Lapua Magnum was the first round ever designed specifically for snipers. It was designed to play dual roles while not having the weight of the big .50BMG while still maintaining the ability to stop vehicles. 
     For the average Joe the Ruger Precision .338 Lapua is a fun way to jump into the Magnum calibers and really stretch it out there without too much trouble. With bullets from Berger that allow for forgiving cartridge overall length, and much information on the cartridge available it is sure to become a favorite rifle for many loyal to the original Ruger Precision Rifle.
     Ruger has provided an ergonomic platform that's customizable to just about anyone. The cheek rest and the length of pull are both adjustable for all. The barrel twist rate is suitable for any weight bullet. The trigger is a nice weight right out of the box; however, I plan to adjust mine down by about a pound and a half. Pretty much ready to go with just a little bit of work.
     Many people getting into precision rifles have either grown up with run of the mill hunting rifles or never ever shot long range. They do not realize that a large part of successfully shooting long range comes from proper rifle set up. --The Ruger Precision .338 is no different. If you want it to shoot you need to start by getting blue Loctite and going over the rifle, removing every bolt one by one, applying blue loctite, and then torquing everything down to specification with the Fix-It Sticks deluxe kit. This insures that your scope, and rifle all maintain proper alignment under recoil, transport, and storage. If this isn't done then at some point you can count on your rifle not shooting properly. It's a small price to pay in time to save money on ammo and frustration.
    Getting down to how the rifle shot I have to say that I was very impressed overall. The brake is effective, albeit not as effective as the Terminator muzzle brakes, but good overall and pretty nice looking. The factory brake is even a little bit tunable with ports on the top that can be opened should you feel the need. I left mine closed as I don't like any flash shooting vertically. The brake is what is popularly known as a tank brake due to its design.
     The 26" cold hammered forged 5R barrel is a 1 in 9.375" twist rate with a 3/4-24 thread at the muzzle. Overall weight of the rifle is 15.2 pounds without glass or ammo. Finish is type 3 hard anodizing.
     Overall length can be adjusted from 49"-52.5" which is a massive amount making the rifle fitting everyone from the midget on Fantasy Island to Andre the Giant.
     The rifle shoots factory ammo and factory length reloads very well. Approximately 1/4 MOA out of the box. I recommend you follow recommended barrel brake in as companies like Krieger barrel recommend for all their barrels. The Ruger Precision Rifle Barrel is impressive to look down. Mine appears to be very smooth with no discernible divots or machining marks that I can observe. 
    Overall, I would definitely recommend any of the Ruger Precision Rifles with only one improvement and that is adding a Terminator brake to them. Though Ruger does an amazing job on their brakes I feel that the overall performance is improved in several ways by adding the Terminator brake. Recoil reduction is greater and muzzle movement is less with the Terminator Muzzle Brake making for more humane hunts, more accurate shots, and more fun!
     Now go out and have some fun and don't take yourself too seriously!
---