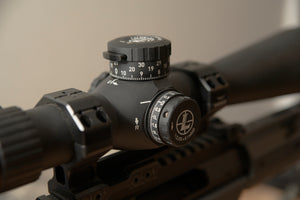 Purchasing a Rifle Scope
Purchasing a rifle scope can be a daunting task, especially if you're not familiar with the technical aspects of scopes. Here are some steps you can follow to purchase a rifle scope:
Determine your budget: Rifle scopes can range in price from a few hundred to a few thousand dollars. Determine how much you are willing to spend before you start shopping.

Determine your needs: Consider the type of shooting you will be doing, the distances you will be shooting at, and the type of firearm you will be using. This will help you determine the type of scope you need.

Consider the magnification: Rifle scopes come in different magnifications, ranging from fixed magnification to variable magnification. Choose a magnification that fits your needs and shooting style.

Consider the objective lens size: The objective lens size determines the amount of light that enters the scope. Larger objective lenses allow for more light, which can improve visibility in low light conditions. However, larger objective lenses can also add weight and bulk to the scope.

Consider the reticle: Reticles come in different styles, including crosshairs, mil-dots, and BDC (bullet drop compensator) reticles. Choose a reticle that fits your needs and shooting style.

Read reviews: Read reviews from other shooters to get an idea of the quality and reliability of the scope you are considering.

Purchase from a reputable dealer: Purchase your rifle scope from a reputable dealer to ensure that you are getting a quality product and that you have access to customer support if you need it.
Overall, purchasing a rifle scope requires careful consideration of your needs and preferences, as well as the technical specifications of the scope. Do your research and take your time to ensure that you get a rifle scope that meets your needs and will last for years to come.
---